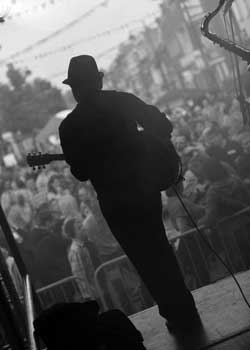 Karl Demata
guitarist, composer, producer and educator
social media contact
https://soundcloud.com/karl-demata
https://www.facebook.com/KarlDemataMusic/
uk.linkedin.com/in/karl-demata-935b3891
Biografy
Guitarist, producer, composer and educator
Born in Italy and relocated in the UK in the late nineties Karl has been active in a wide range of fields dealing with music.
Karl spent most of his formative years between playing, recording and touring in various bands and studying music at the University of Bologna – Arts, Music & Drama Faculty.
Soon after Karl was recruited in local record companies and became involved in the music business by working in public relations, label manager and A&R  and executive producer while retaining a constant activity as musician and composer.
In the last years Karl shifted his focus increasingly towards composing and producing music. His 2011 release "Cross The Mountain" was a tribute to the classic rock blues idiom infused with a progressive and contemporary approach. The album received rave reactions and reviews (link).
After touring UK and Europe with several bands and styles Karl produced and composed the debut album from the international Alternative/Progressive rock band VLY (link).
Karl is also active in educational projects teaching and lecturing in music schools and colleges in the Oxfordshire and south (UK) area.
---